STARTING A NEW BUSINESS? COMMON MISTAKES AND HOW TO AVOID THEM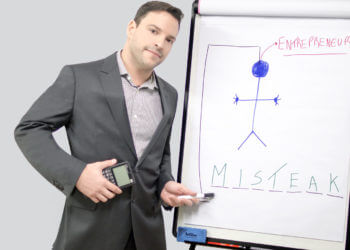 Before I set up my first business, I researched the reasons why start-ups fail. The statistics didn't worry me. The high rate of businesses that fail in the first year of existence didn't scare me either. The main reason for my lack of concern was that I simply couldn't find a reliable source to prove the statistics were correct.
For example, 50% of start ups fail in the first year; 95% of new businesses fail within the first 5 years and the chances of your business surviving 10 years is only 3%. What kind of research was made in order to prove these statistics are correct? I haven't got a clue. However, after running a successful accountancy practice (www.verticeservices.com) for the last 10 years, I would like to share two thoughts with you:
1) We incorporate about 1,500 companies in the UK (between 2007 and 2015). Out of these 1,500, approximately 300 are active and trading. A lot of businesses haven't closed but they are lying dormant for various reasons. It's important to note, that sometimes people come to our offices with a business idea, they incorporate the company and change their mind. It is therefore difficult to show how accurate the statistics are.
2) Often these statistics haven't included individuals who start up their business as self-employed. If these were included, the number of recorded business failures would definitely decrease.
We also know that starting up and managing a business is not for everyone. It took me many years to discover that having a good business idea is important but implementing the business is even 10 times more important. There are a certain number of business processes that you should understand very well before you start up a business.
I am a lucky individual; apart from doing what I like, I also have the opportunity to have a lot of practical case studies in Vertice Services. I talk to business owners on an hourly basis and they like to share with me their concerns and achievements.
I would like to share with you what they have shared with me and highlight what you you should avoid when you want to start up a business.
INDIVIDUAL PREPARATION
Are you really prepared to start up a business? You must be fully committed before you start up a business. Some people start up a business because they don't want to work full time, they don't want to have a boss or they want financial independency. If you want freedom, buy a plane ticket and go on holiday. Business is not a long-term holiday. 87, 8% of business people work an average of 15 hours per day, the business became their boss and they haven't seen a penny out of their business in the first 3 years. Some of them haven't seen a penny after 5 years and a few of them will not see a penny ever.
I don't want to scare you but if you want to start up a business, you need to make sure that you are 100% mentally, physically and emotionally prepared. You need to remember that being awarded the best employee of the month for the last 3 consecutive months will not make you a good entrepreneur.
A business should have three core capabilities: the visionary, the manager and the administrator. We all have the ability to take on these roles, however, it's important to find out which one we excel at. If you are a visionary, you still need a good manager (especially if the business if growing) and a very good administrator (to control the processes and the figures). One capability does not replace the other: they complement each other.
I have seen many businesses fail even though the businesses had enough sales to keep the doors open. In other cases, the entrepreneur has spent too much time managing and doing the administration side of the business and forgetting the most important business concept: in order to have a business you must sell your products or services. Businesses don't keep the door open without sales.
THE RIGHT IDEA IN THE WRONG TIME OR PLACE
Some people are so visionary and creative that sometimes the potential clients are not ready to buy their product or services. Sometimes lack of technology can make a business fail. Some people travel to another country and see a successful business model and they want to copy it in their own country. Sometimes they get it wrong.
Copying a business model in another country does not necessarily mean that the same business model will work in your country of choice. You must analyse the external factors that can affect your business start up before you launch. A couple of points to consider are:
Are there any specific regulations for the kind of business you want to start up?
Is the activity legal in the country you want to start up?
YOUR BUSINESS IDEA IS OLD FASHIONED
Some people try to start up a business in areas that are falling or cease to exist. For example, the recordable media, newspaper publishing and photofinishing industries have fierce competition from new technologies and face changes in consumer demands. Newspapers are trying to adapt the change by creating digital version of their content.
You need to ensure you start up a business model which is not suffering pressure from new technology or consumer demand. People's habits change all the time and you must be ready for these changes.
LACK OF START UP FUNDING
I advise many clients to save money before they start up their own business. Lack of funding can lead to business closure. An entrepreneur can be so excited about the new venture that he overestimates the company sales forecast and underestimates the costs and expenses. They also start up a business with a large group of employees that were not necessary to be employed during the start up phase. In some cases, they found out later that they needed an expensive piece of equipment and the business doesn't have money to buy.
Some businesses also suffer from seasonality. A minority of them even need to sell twice a year to cover the costs and expenses for the whole year. I am not saying that if a business suffers from seasonality it should not be your business of choice. What I am saying is, don't forget to take seasonality into consideration. If your business sales will decrease temporarily you have two options:
1. Decrease your direct, indirect costs and expenses;
2. Find a service or product to compensate the loss of sales.
THE WRONG BUSINESS PARTNER
In my opinion, choosing the wrong business partner is the worst mistake you can make when you start up a business, especially when only one of the partners will invest their money in the new venture. If only one person is investing, only one person has the risk of losing his money.
I have seen many cases in which the non-investor partner promises to dedicate 100% of his time to the business but simply doesn't deliver. Individuals also have different personal goals, different families and different needs. Another very common situation is one of the partners to be 100% committed with the business and the other one not.
The business partners should share as many common goals and characteristics as possible. Another way to avoid conflict between the partners is to divide the company into departments such as a commercial department, operational department and financial department with each partner heading up a designated department. The idea is that the partner can help with other departments but will only ever have the final decision for his own department. There must only ever be one decision maker for each department.
Ensure you not only know your partner well but also the whole family. It is unbelievable how many times I have seen good business partnerships terminated because family relatives became involved in the business. For example, the business may not be making money but one of the partners wants to cash the money out of the company because his wife wants to have a family holiday. In order to avoid conflict, the other partner agrees but doesn't want to. In my opinion, 80% of businesses fail because of problems between partners. Make sure you definitely need the partner and that you are compatible with him. Otherwise, do it yourself.
GOING INTO BUSINESS WITH YOUR SPOUSE
A romantic relationship is very different from a business partnership. There are many couples who understand each other well and have a healthy relationship but they simply can not run a business together. If a couple know how to separate their personal life from the business life then it can work. The couples that succeed are rare. They don't bring their personal problems to the office and they don't bring business problems to their home.

If your partner is unemployed, you should avoid offering him/her a job. Whether it's to save money or to help your partner, being your partner's boss can be tricky. Imagine if you had to fire your spouse. I have also seen some business individuals making their spouse a business partner. Remember, a business is a legal entity by itself and your partner should only be a company shareholder if they actively participate in the business or have invested in the business.
GROWING TOO FAST
Some businesses fail because of overtrading. Overtrading often happens when a company grows their operations too aggressively. Overtraded companies enter a negative cycle where an increase in interest expenses negatively impacts the company profitability which leads to lesser working capital. This leads to an increase in borrowing which in turn leads to interest expenses and the cycle continues. Businesses which also need to buy and maintain expensive stock should pay the supplier before they receive the money from sales or they can suffer from overtrading as well. These businesses should have or raise enough working capital in order to avoid facing liquidity problems which could ultimately close the business down. One of the financial tools available in the market is what we call invoice discounting. A simpler solution, however, is to receive the money from sales before your business pay its suppliers.
A BAD WORK TEAM
Some businesses fail because the business owner relies on people with no experience. Having a solid team could be your company's treasure. Some people say they are experienced and competent individuals but they don't deliver. Sometimes it can take some time for you to realise you have employed the wrong person. If you don't wake up in time, the business can really suffer. I also know companies which have closed down because of employees stealing money from the company. Be careful when hiring new employees – especially in businesses that are in the financial industry. A bad work team can be detrimental to your company while a trusted, hard-working team can make it thrive.
NO MARKET DEMAND
Having customers is the only way your business will have a chance to survive. I have clients with a well-implemented business model that failed because they simply had no customers. Even though they tried different sales strategies to acquire new clients they simply didn't succeed. The market should be ready to buy your products or services.
WRONG PRICE
Some businesses fail because the product or service price is over valued. The price of any product or service should be ideally what individuals or businesses are looking to pay for it. The product should have a price which corresponds with the added value they bring to the consumers. Calculate your pricing strategy wrong and your business will be out of the market. Three reasons why an inaccurate pricing calculation can be detrimental are:
1. The price does not cover the total direct and indirect cost. The marginal contribution of any sales (marginal contribution = sales – total direct cost) must be always positive. Apart from the marginal contribution, any business also has overheads and the total monthly marginal contribution of the products/services sold should also contribute positively to pay these overheads.
2. When you're selling a product or services don't forget that if your business is VAT registered, the VAT amount should be deducted before you calculate the product marginal contribution. 20% less could make a huge impact in your business profitability.
3. The price calculation was prepared from bottom to the top. To be clear, some businesses started calculating the direct and indirect costs of a product apportion the expenses and add up a mark up. I am not saying that the calculation is wrong. But a price competition analysis should be done in order to compare your business price with other similar products. If your business is offering a product that is more expensive than the other already available in the market, you need to make sure that there will be something very unique about your product or service to compensate charging a more expensive price. Prices should also be increased from time to time as business expenses and costs also increase often. Make sure you do this as the lack of price increase could affect your business profitability. Be careful with sales discounts. Avoid losing money in a sale as the only person who will be happy is the consumer.
LACK OF MARKETING – ADVERTISING
Imagine organising a birthday party. You want it to be an amazing party and you want everyone to have a great time. You select the best organiser; you choose the best place to host the party with the best waitresses you can find in the market. The party starts and guess what? You forgot to send the invitations to your friends. The result? An empty party. This is what happens when you hire the best business manager, you have the best employees but you don't promote your business to potential clients. I always say that marketing should be seen as an investment and never as an expense. You should talk about your business as much as you can. If you are not a salesperson or you don't like selling, make sure you hire a good salesperson. Don't simply copy existing marketing strategies. I know many businesses that have failed because they tried to apply the same marketing strategy that had worked for other businesses. You should think like a stock trader. What do they do in order to spread the risks and maximise their earnings? They usually buy stocks from different companies in order to see which one is working according to their financial expectation. Apply the same concept to your business by trying out different marketing channels to see which ones are giving the best result.
POOR FINANCIAL CONTROL
What keeps a business open is the amount of cash the business accumulates. As the business grows, money should be invested. Poor financial control can lead to business closure. I have seen businesses that make a lot of money in sales but have had to close it down. A business which has £1.2 million in sales and £1.23 million in costs and expenses isn't making a profit. If you don't not like financial controlling, delegate this task to someone who does. We prepare a very simple monthly profit, loss and cash flow sheet to understand the company's financial situation. Accounts payable and accounts receivable should be very well controlled in order to minimise bad trading losses. Not saving enough money
I have seen business plans in which the business owner has included a huge salary or dividends. This is a recipe for disaster. Another example is when the business hasn't sold a penny and the director wants to have a salary.
OUT-DATED TECHNOLOGY
A business can fail because the business owner did not adapt the business for technological changes, especially in the digital online market. Some businesses are selling more and more online as consumers aren't afraid to shop online. It is worth noting, that some of my distributor clients have closed down because their clients are now doing business directly with their consumers. You must make sure that your business has an online presence.
LACK OF PLANNING
Benjamin Franklin once said:"If you fail to plan, you are planning to fail."
The most common mistake business people commit is failing to plan. A new business start-up must be very well planned before the launch. A business plan must be prepared before you commit time and money to a new project. I don't want to get into much detail because the business plan could be a topic to be worked on individually but you must make sure that you understand your business model very well, that you prepare a competitive market analysis, you know your marketing and sales strategy and you know how many people you should employ. Always prepare the company sales forecast, profit, loss and cash flow statements.
---
If you want to increase your chances of having a successful business, you must prepare a business plan.
Your chances to succeed will increase to 76.5%. If you want to increase it to 100%, please read this document again.
If you have any question or comments about my article, please send me an email rodolfo.b@verticeservices.com
---
Rodolfo Basilio is a senior accountant and business consultant working for Vertice Group.
Vertice Services (www.verticeservices.com)
21 Knightsbridge, London SW1X 7LY, London, UK
Telephone: 020 7328 8338